We've been publicising open education week to our students this week, letting them know a bit more about what it means and what they might to explore further on our Departmental website.  While we took this chance to tell them about OER and open ed more widely, we also blew our own horn a bit too….
The Department for Continuing Education was one of the first departments to contribute to Oxford's iTunes U site and Marianne Talbot, the Department's Director of Studies in Philosophy, has had her lectures downloaded more than three million times with two of her podcasts – 'A Romp Through the History of Philosophy', and 'The Nature of Arguments' – being global number one on iTunes U. You can listen to Marianne's lectures and other podcasts from the Department's podcasts site.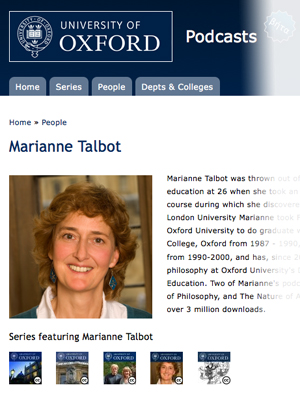 As well as contributing to the University's open education initiatives, the Department has undertaken research into the use of open educational resources by tutors and students and, where possible, releases the outputs of its teaching and learning projects as OER.
One example is the Course Design Moodle, which highlights examples from some of the Department's online courses and aims to help teachers worldwide to develop their own high-quality online learning resources.
The Department is also embedding open practices across its work and has just started an exciting new project to create OER as part of the Weekly Classes programme. So far, the project has made available more than 150 online resources from 11 weekly classes and will be openly licensing these resources in the future. For a preview of the sort of material we hope to release see: open.conted.ox.ac.uk/.